Ready to progress to the top? We are looking for young, motivated graduates who will always put customers at the centre of everything they do. It's precisely this attitude that makes us so successful.

Each year, Erste Group gives a group of bright and highly skilled university graduates the opportunity to discover the world of our banking group.
The Group Graduate Program is a rigorous series of classroom and distance learning sessions, international job rotations, on-the-job training, and medium term project work.
Purpose of the program
Acquire fundamental knowledge of the banking industry
Gain a solid understanding of our core business fields
Improve your interpersonal and cultural understanding and awareness
Benefits of the program
International assignments and classroom learning in the different entities of Erste Group
Ideal learning environment with experts from Erste Group as well as external university staff
On-the-job Training give you the necessary exposure for a long and successful career within Erste Group
Establish a network of specialists within the company
Classroom and Distance Learning
The 18-month programme includes the fundamentals of banking, as well as insight into the key areas of Erste Group, including Risk Management, Corporate Banking, and more. In addition trainees will attend advanced training courses for the specific business area of their home department. This, along with personal development workshops, which are designed to improve the graduate's interpersonal and cultural understanding and awareness, will give them the specific skills needed to have a successful career.

Applied Knowledge
Applied Knowledge is where graduates are able to transfer what they have learned during the Classroom and Distance Learning Phase and the On-the-Job Training Phase into actual, business related results. Finally they have to prove their knowledge in the final hearing in front of a committee of senior managers from Erste Group.

On-the-Job Training

The home department is where the graduates are spending most of their time and it is where they will begin their full time work once the programme has been completed. In addition to the time spent in the home department, job rotations give graduates the opportunity to become familiar with a variety of other areas. Job rotations are both domestic as well as international.

The next round of the GGP will start in January 2022 and applications will be accepted from August 2021. We are looking forward to your application!

Barbora Vonkova, GGP alumnus, about the programme:
Our Group Graduate Program was awarded with the TraineeNet award.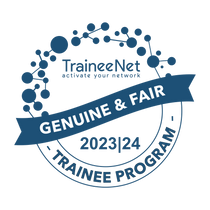 You might also be interested in