With our Financial Institution and Trade Finance teams on the ground in Austria, Czech Republic, Slovakia, Romania, Hungary, Croatia, and Serbia and we support every aspect of your trade transactions, i.e. documentary business, bank guarantees, stand-by letters of credit as well as a broad spectrum of financing options:    
Documentary credit (confirmations, advising, acting as nominated bank etc.)
Advising and re-issuance of guarantees against acceptable counter guarantees
Reimbursement undertakings    
Post-financing and discounting of LCs    
Trade-related bilateral loans       
Risk distributions and participation       
ECA-covered finance, e.g. buyers credits and soft loans
We strive to facilitate trade finance requirements in our home market for our global financial institutions clients that meet your unique needs.
Work with us and take advantage of our service and let us find the right structure to mitigate your risks and to finance your trade finance transactions, specifically tailored to your needs.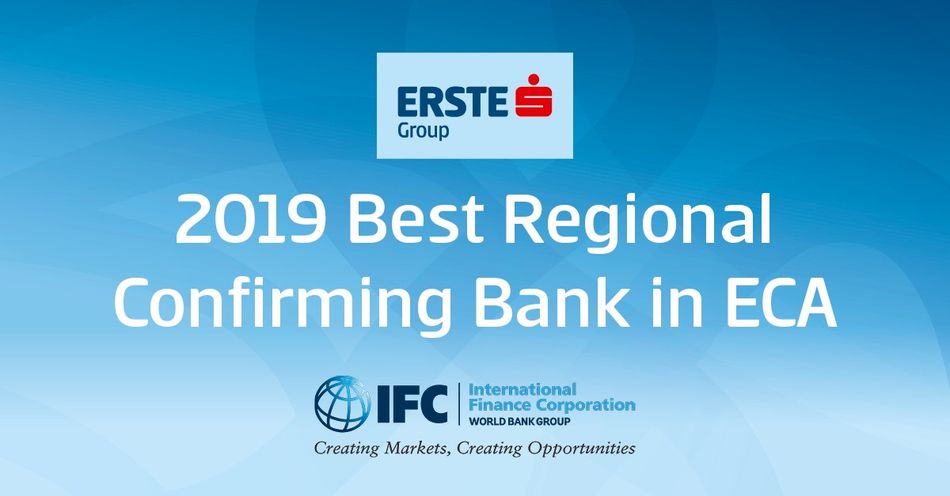 We are pleased to announce that the International Finance Corporation (IFC) has selected Erste Group Bank AG as "2019 Best Regional Confirming Bank in ECA". This trade award recognizes Erste's leadership in supporting trade finance in emerging markets in partnership with the IFC Global Trade Finance Program (GTFP).
Erste Group's cooperation with the IFC under the GTFP enables us to do our part in keeping trade flowing even in challenging times - and thus to assist in sustaining economies and preserving jobs. IFC's Global Trade Finance Program extends and complements the capacity of banks to deliver trade financing by providing risk mitigation in challenging markets, which enables the continued flow of trade credit. Recently, IFC has announced that the Global Trade Finance Program will provide additional USD 2 billion to cover payments risk and thus enable financial institutions to provide trade financing to importing/exporting companies. This highlights the importance of this program for the global economy.
Erste Group intends to further expand the cooperation with the IFC under the GTFP in order to be able to further assist its clients and partner banks to cover their trade finance requirements.