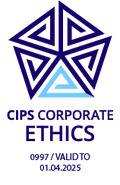 Erste Group Procurement is certified with the CIPS Ethics mark. This certificate is provided by the Chartered Institute of Procurement and Supply (CIPS) to companies that are committed to high standards of ethical behaviour and have a proven record of training of employees in this regard. EGP strives to have all employees individually certified in relation to ethical behavior.
Erste Group Procurement ensures for its customers:

Compliance to processes and standards of Erste Group Bank AG
Optimisation of expenses towards third parties based on total cost of ownership
Optimisation of costs for supply management
Transparency for risk acceptance in financial, reputational and contract topics

These objectives are supported by the three types of procurement services that have been implemented group wide:

Sourcing: strategic focus, proactive category / supplier management, implementation and execution of sourcing strategies, high value goods / services
Tactical Purchasing: operational / transactional focus, fast / efficient purchasing of lower value goods / services (e.g. eAuctions)
Order Management: transactional focus, call-offs from existing contracts / catalogues, low value goods / services

EGP Services in scope

Download graphic [PNG; 949x647; 63 KB]

Erste Group Procurement ensures for existing and potential suppliers of Erste entities:

Fair and equal treatment
Transparent and professional supplier selection processes
High ethical standards for all participants

EGP set up a highly standardised on-boarding process for suppliers. This on-boarding process is based on the Supplier Code of Conduct, which is applicable throughout our organisation to ensure everyone with whom EG has commercial dealings will support EG basic principles and standards. Erste Group views its suppliers as partners in shaping its business. EGP performs Supplier Business Reviews with selected suppliers that achieved the "preferred" status to intensify collaboration and gain mutual benefit.

Erste Group views it suppliers as key to shaping its business to be more sustainable. EGP and the sustainability office have therefore created the supplier code of conduct that ensures that procurement decisions include the suppliers' social and environmental impact. In the course of fulfilling their contractual obligations, suppliers of materials, equipment and services, selected as group partners, are expected to:

Comply with national or local laws, decrees and regulations
Fulfil all their legal obligations regarding the health and safety of their employees and their contractors
Conform to environmental legislation
Respect and implement the following basic principles of Corporate Social Responsibility
Protection of fundamental human and labour rights
Protection of the environment
Promotion of health & safety
Engagement against corruption

The full supplier code of conduct and the questionnaire for supplier as well as further documents can be found in the section supplier documents.
It takes a vision to create a successful business idea. It takes people to transform dreams to reality. Would you like to be one of those people?
We have a clear approach to Human Resources. Give down-to-earth individuals the opportunity to grow both individually and professionally whilst sharing the drive to change EGP's vision into reality.
We know that recruiting the right people is a key success factor for our business.
For more information please check Career in Erste Group.
Robert Semethy

Procurement Services GmbH, Managing Director and Chief Procurement Officer
LinkedIn profile
Procurement Services Gesellschaft m.b.H.
Am Belvedere 1
A-1100 Wien

Registered Seat Vienna
Commercial Register No.: 132627s
Commercial Court Vienna