In our DNA for 200 years
"No age, no gender, no social status, nor nationality should be excluded from the benefits which are provided to all the depositors of the Savings Bank."
(Erste founding document – 1819)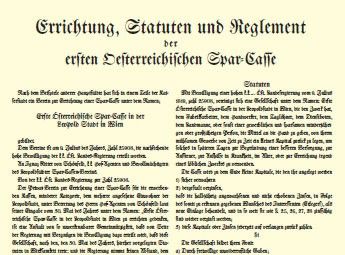 Diversity – anchored in our history
Our purpose, the reason why we exist, is written down in the founding document of the Erste Oesterreichische Spar-Casse in 1819: to grant everybody access to prosperity, regardless of age, gender, social background or geographical origin. Our founding purpose still tells us what's the right thing to do – today, tomorrow and in the next 200 years.
#believeinyourself
We believe in the people of our region and their power to implement plans, make dreams come true and create prosperity. This is only possible if everyone can develop freely, unhindered by barriers such as discrimination or fear. Believe in yourself as you are and follow your own path – we try to live this attitude towards our customers and employees every day.
The world is diverse, and so are we
The world in which we operate today is colourful, fast and unpredictable. In order to mirror this complexity and find the right answers for the manifold demands of our clients, we need the best people; the brightest minds who unite different perspectives, understand and reflect the diversity of our corporate environment and live up to the transformative processes of our present and future.
Diversity drives excellence
The best ideas arise where people with different experiences and skills work together. For this is what brings about innovation. Diversity makes us more robust, more creative and supports a corporate culture in which everyone can develop their inherent potential.
Diversity as an inclusive principle
For us, an inclusive corporate culture means recognizing each and every employee in their individuality. We understand diversity and inclusion as a mindset that obliges us to treat each other with respect, so that everyone feels safe to speak their mind openly. We want to create an environment in which people are enabled to develop themselves, support each other when facing challenges and bring out the very best in themselves and their peers.
Diversity as part of our corporate strategy
Diversity management is part of our corporate strategy and embraces the dimensions of age, gender, sexual identity and origin as well as the question of the greatest possible cognitive diversity. In our diversity policy, we define common standards and KPIs for the seven countries in which we operate. These are implemented locally and with individual priorities.
United by Diversity
Erste Group unites more than 45,000 employees with over 50 nationalities across CEE. Our principles for promoting diversity and inclusion are anchored in the Code of Conduct, which focuses on creating a work environment that is free from discrimination and harassment. We focus on the individuality and contribution of each person, regardless of gender, age, marital status, sexual orientation, disability, origin, skin colour, religion, political conviction, ethnic background, nationality or other aspects that are not related with employment. Our Group Diversity & Inclusion Policy defines principles for promoting diversity, to which Erste Group is committed. In addition, it provides a common understanding of what inclusion means for Erste Group and defines roles and responsibilities as well as general guidelines for the development and implementation of goals and strategies in the area of ​​diversity management and inclusion. In cooperation with local diversity managers in our core markets, we are aiming for a group-wide 37-percent share of women in top management positions by the end of 2025 and are continuously implementing measures to promote diversity in all dimensions.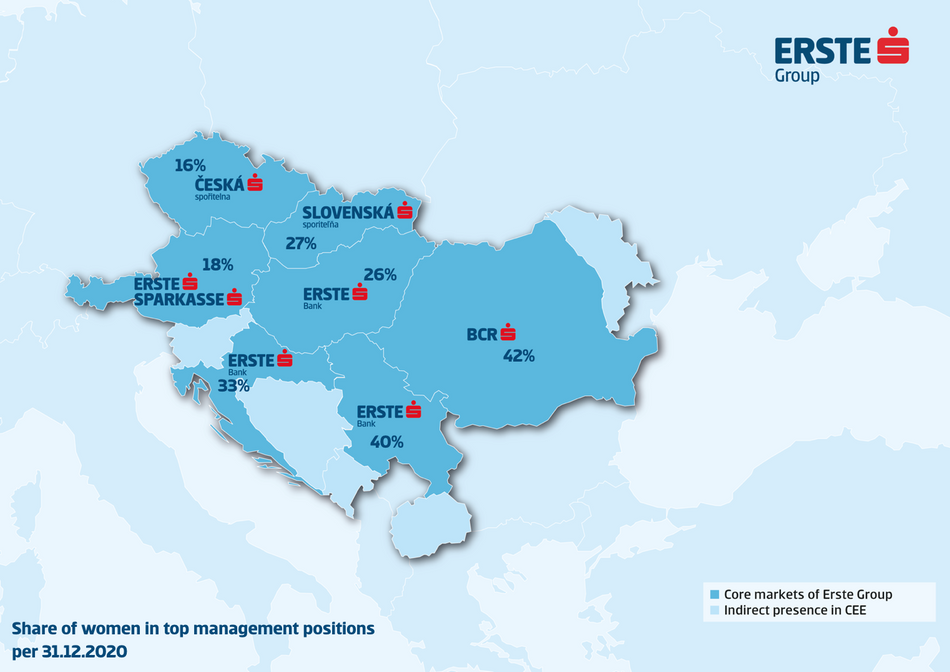 Diversity Management Focus Topics 2021 – 2025
Evidence-based target setting
Reconciliation of private life & career
Women in leadership positions
Business Resource Groups
Erste Group has two employee networks that connect colleagues from all areas of the company: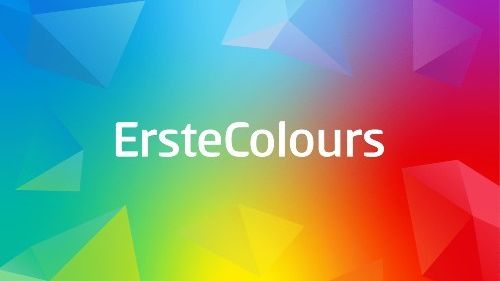 ErsteColours is our Business Resource Group for LGBTIQ persons & friends, with the aim of contributing to a corporate culture in which people of different sexual orientations and identities feel welcome, safe and valued. ErsteColours has been a long-term partner of Vienna Pride and was awarded the Meritus Award in 2019 for its commitment. Erste Group Chief Risk Officer Alexandra Habeler-Drabek is the sponsor of ErsteColours. For all details on the ErsteColours work program, questions and further information, please contact ErsteColours@erstegroup.com.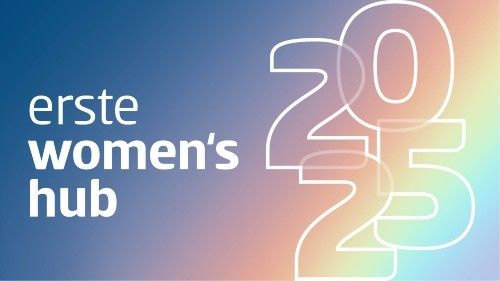 Erste Women's Hub is Erste Group's women's network. The focus of work at Erste Women's Hub is on promoting women's careers, improving the reconciliation of private life and career, increasing financial education, especially for women, and the goal of getting more women into IT-related functions. Founded in 2015, several hundred women from all areas of the bank are now part of this network, which also aims to expand into the CEE region in 2021. Erste Group CEO Bernd Spalt is the sponsor of Erste Women's Hub. If you have any questions about the work of Erste Women's Hub or require further information, we look forward to hearing from you at ErsteWomensHub0317@erstegroup.com.