Florian Pumhösl, 'Design for a Curtain', 2015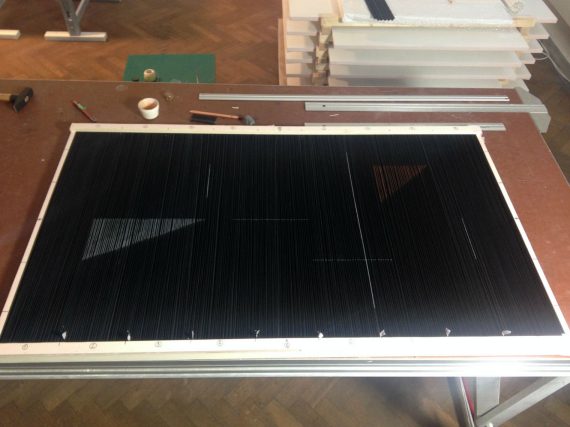 Grand Hall, Polyester, Fiberglass
In making his artistic contribution to the Erste Campus, Florian Pumhösl was confronted with the functional requirement that his work adhere to the precise parameters defined by the architecture. His objective was to design a curtain that could be used to darken the Grand Hall, the building's space for lectures and events. The curtain that Florian Pumhösl ended up creating for this purpose, which he designed in collaboration with Viennese furniture maker Kohlmaier, is based on a bolt of accordion-folded black polyester that is ca. 7 m high and 60 m long when fully extended. Along this curtain's visible folds, he had white threads worked into the fabric at precise, predetermined intervals. These threads give rise to geometric surfaces that change every time the curtain is extended or pushed together. These geometric compositions thus change according to the curtain's positioning. When the curtain is in its most compact, fully folded state, one sees an abstract image with flat triangles and delicate lines. In its most extended position, these flat geometric forms unfold to create a filigree system of lines and points that the human gaze automatically interpolates to once again result in flat shapes, extended and expanded into an image possessed of an architectural character. The artist's stipulation that the curtain only be put in its desired position once an event's audience or participants have arrived aims to ensure that the moments of this image's expansion and compression are experienced by the public.
The difference between recognizing specific forms and orders and ostensibly "pure" seeing is one of the issues that ushered in the historical debate of formalism. Florian Pumhösl's curtain builds on that dialectic and places it in the context of a specific interior design task.
Florian Pumhösl, born in 1971, lives and works in Vienna. To build on the visual language of modernism is the central motif in the work of Florian Pumhösl. He is interested not only in the historical derivation of forms and aesthetic issues, but also in how these are socially and politically understood. He has shown his projects at important international exhibitions, institutions, and galleries including the Yokohama Triennial, the 50th Venice Biennale, and the São Paulo Art Biennial, as well as at documenta 12 in Kassel, the Museum moderner Kunst in Vienna, Ljublijana's Moderna Galerija, Vienna's Secession, the Stedelijk Museum in Amsterdam, the Kölnischer Kunstverein in Cologne, Kunst Halle St. Gallen, the Museu d'Art Contemporani in Barcelona, the Museum of Modern Art in Warsaw, the Generali Foundation in Vienna, and Kunsthaus Bregenz.
Text: Kathrin Rhomberg & Pierre Bal-Blanc
You might also be interested in